Techivation T-Compressor is Out Now!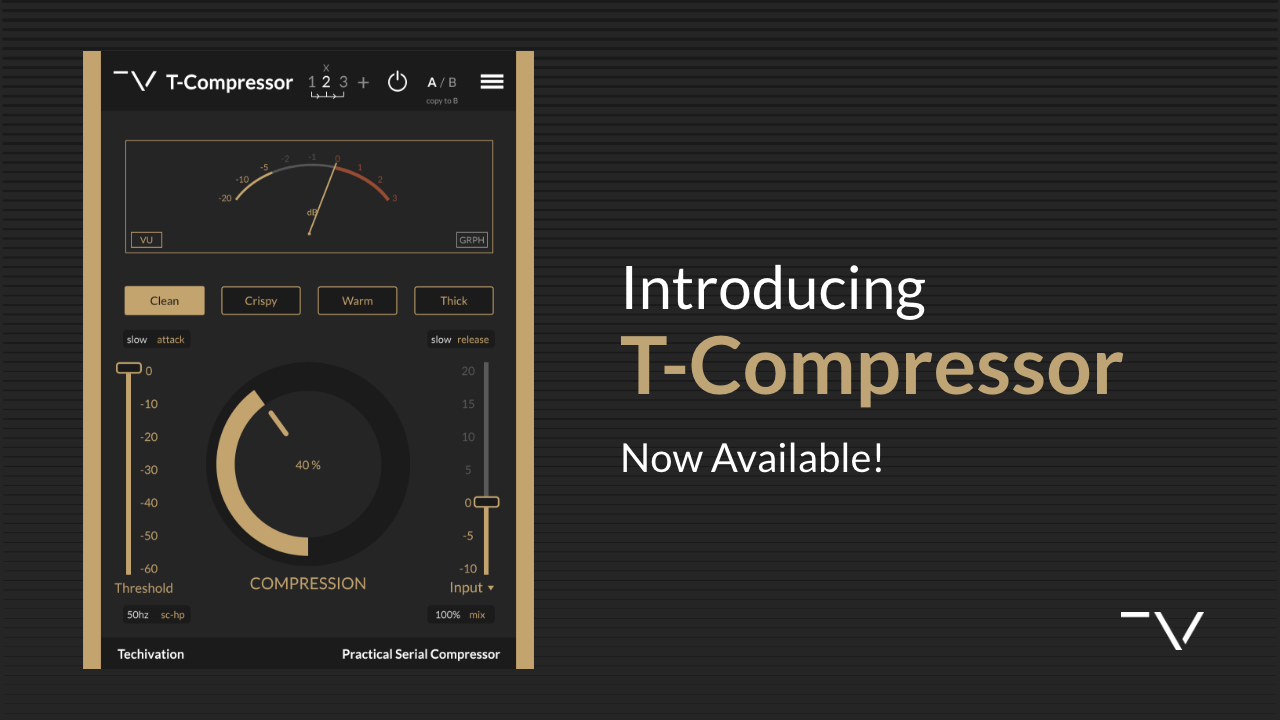 Hi everyone!

We are proud to introduce you to our brand new developed audio plug-in "Techivation T-Compressor". It is a simplified, easy-to-use, and versatile audio compressor that offers a new innovative way of professional dynamic processing for audio.

What makes the T-Compressor special?


Speed up your workflow by having three compressors in one plug-in
Get flexible control over compression settings in an innovative, easy, and fast way
Wide range of creative dynamic processing possibilities to make your sound more unique
Hear the actual compression effect without the output volume changes
Go for a fully transparent sound or add different colors to it to your choice
Go precise with the analog VU meter or its digital graph visualizer
With complete control over three compressor plugins in one interface, you will free up more screen space
Supreme sound quality


The audio compressors are often too complex to use or too simple with just a single knob, and it's not possible to get a unique high-quality sound using the simplified ones. Also, to use the complex ones, you need to have a high level of understanding and experience using audio compressors. Even when you do have that level, it often may take you some time until you get that desired sound you're looking for.


So what we did with T-Compressor was fill the gap. It's easy to use, yet does the job of an advanced complex audio compressor (Even better). Using the innovation and technology, the Techivation team could make it possible to have flexible control over the compression settings in a super easy and straightforward way.


Simply set the threshold and adjust the compression settings to hear what works best. That allows you not only to speed up your workflow but also to get better-sounding results as you don't focus on messing with parameters too much. So you just focus on listening to the actual sound that you're creating. We didn't want to sacrifice the flexible control over the sound, but innovation made it possible to keep both simplicity and flexible control in T-Compressor.


The T-Compressor allows you to add up to three compressor plug-ins in one window and create unique serial compression chains! Just like how you can switch through web pages on a web browser, you can simply switch through 3 compressors with totally different settings that are chained together, from the header part of the T-Compressor.


Although there is one major knob that controls attack, release, and ratio settings for the compressor. You still can choose between moving toward with fast, or slow attack or release speeds from the "attack" and "release" buttons on the interface. You can go through parallel processing using the "mix" control, and control the sc-hp amount from 20HZ to 350HZ on each compressor unit in the chain! Four compression modes to choose from for different colors and effects or transparency. The "auto-gain" when "enabled" lets you hear the compression effect more accurately and make more precise comparisons with the dry sound.


This is a plug-in designed for getting the job done quickly for both professionals and beginners, offering tons of creative possibilities.


We wanted almost everyone to be able to take advantage of this new innovative audio compressor for their audio processing, and music. So we picked a very affordable price for it. The regular price for the T-Compressor is $49, while right now you can get it for $39 during the intro sale until April 30th. AND if you do have a T-De-Esser Pro already, you will be able to purchase it at $29! - Until April 30th.


Get T-Compressor Here: https://techivation.com/t-compressor/


A 14-day free trial with full functions is available.

A bundle of both T-De-Esser Pro & T-Compressor is also available now for the price of $69 (50% Off). - *until April 30th, 2022



Get the Dynamics Bundle here: https://techivation.com/dynamics-bundle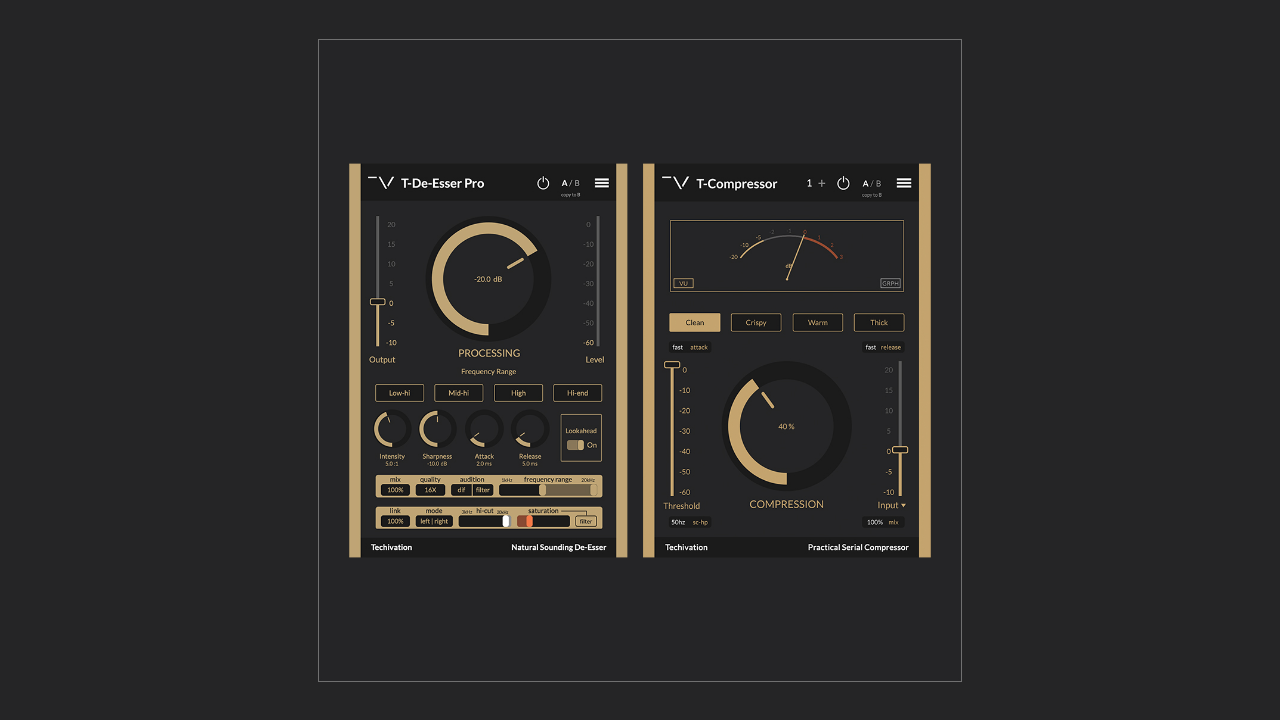 ———

Techivation


We are a team of music producers, audio engineers, and developers with a passion for creating tools that will make the music production process smoother, faster, and more fun. We love innovation and believe there's no limit to improvement and creativity.

Hope you enjoy it!! And like always your feedback is appreciated.


Thank you!

Amin
Founder & CEO